I go to local thrift stores (primarily non-profit) and usually bring home a large quantity of department store and designer clothing and shoes by spending only $30-$45 and a few hours looking for fashion items to be worn with my existing wardrobe.
The goal is to is to inform women of the fashion affordability of shopping at thrift stores, the benefit of donating, and how these organizations help disadvantaged, recovering and abused men, women and children.

Sunday, January 31, 2016
EVERY DAY IS A NEW OPPORTUNITY TO BE FABULOUS.
Posted by

Fashion Thriftology eRoom
at 2:07 PM
No comments: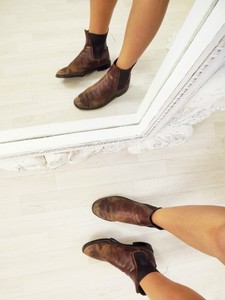 Ode to a pair of boots
By AVM
The bottom of these boots, they tell you where I've been.
They long for places where I have no roots.
The inside is filled with things I'll never say again.
These boots can feel heavier with all the things I never do.
It's just easier to wear heavy boots when my sky isn't so clear blue.
Should they be thrown out?
No!
Is my closet ashamed of what it holds?
No, because survivors reside there.
Like I, they too have a past and are daring and bold.
So I rejoice in God's mercy and true self-acceptance.
It's that which allows me to enjoy the scenery when I'm on a detour.
And when the mood is right - dance.
So I keep walking in these boots...
Posted by

Fashion Thriftology eRoom
at 2:03 PM
No comments:

After a very rainy and Spring-like December, the cold has crept in and finally I can wear my boots. I have several pair (the majority bought from Thrift stores) with various heel heights and toe shapes. Black and brown are the only colors I currently own and booties (ankle-length boots) are my staple style. Last year I owned more boots than I needed to have, so I got rid of three pair just to deliver myself from the guilt. But I must admit that I would love a pair that goes to or above my knee - but that's not going to happen because I have large calves and knees. So I'll wear the boots I have!
Posted by

Fashion Thriftology eRoom
at 1:36 PM
No comments:

Monday, January 18, 2016
I must admit that since the great funny woman Joan Rivers passed I haven't been interested in watching
E!'s
Fashion Police
. The last time I actually watched a full episode was when Guiliana Rancic made the "patchouli" remark about actress/singer Zendaya. I wasn't as outraged as others were, but I was underwhelmed by the commentators and Joan's replacement Kathy Griffin.
So last week as I was channel-surfing I noticed
Fashion Police
was on. At first I was startled by how much Melissa Rivers resemble her mother, and then I saw and heard NeNe Leakes giving her
"haterade"
comment and look as usual. I listened to the other commentators, and then proceeded to another channel.
I'll be the first to say "Bravo" for NeNe's success. Her story is remarkable and so is her resilience in the entertainment industry where a woman of her age and statuesque would normally not get a call from a casting director. Her success with the hit TV series
Glee
, reality show
RHOA
, and Broadway deserves applause. I would never downplay those accomplishments – however I do feel the need to question whether she's the right one to be a fashion commentator.
I 'm aware that NeNe has a fashion line on
HSN
, and she's always impeccably dressed. But I've seen her on previous episodes of
Fashion Police
and she really has nothing to add to the conversation about how a celebrity dresses – only the
"haterade"
comment and look. Guiliana and the others typically get into specifics regarding fit, if it's appropriate for the occasion, or if the photograph or video clip of the celebrity really shows the intricate details of the dress, etc…NeNe provides none of that.
While she can be entertaining (and sometimes stand-offish) on other television shows, but on
Fashion Police
- I feel nothing. I think she needs to work on being more detailed with her fashion assessments on the show, and give less attitude and "face". The
'tude
and
face
are good for
RHOA
or an acting role, but not for a show where she has the opportunity to be seen as a fashion authority and designer.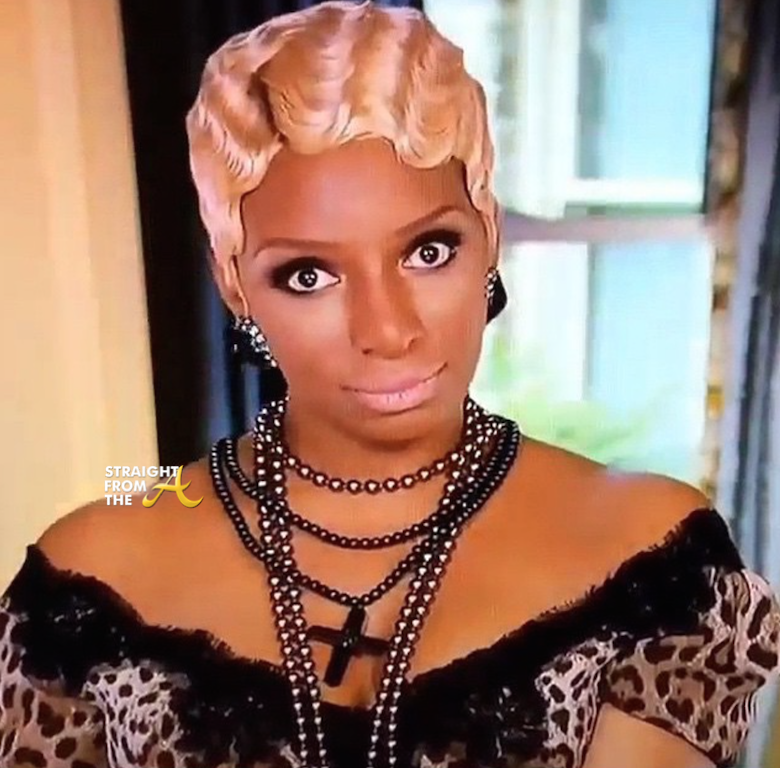 Posted by

Fashion Thriftology eRoom
at 5:42 PM
No comments:

Be Yourself,
not someone else's idea of who to be. It's obvious, but some women forget...
Posted by

Fashion Thriftology eRoom
at 5:03 PM
No comments:

Saturday was a beautiful sunny winter day and I felt the need to get out. So I went to
The Foundry
and
Mission Possible
.
I went into
The Foundry
and it felt like just seeing a long-lost friend. It was the first time there since I moved in September.
The Foundry
was around the corner from my former residence, so it was very convenient. Now it's an extra few minutes drive. But when I walked in, I noticed a lot of great furniture, but no clothing. I didn't even see anything to try on just for fun! So I left after walking around 30 minutes and proceeded to Mission Possible.
Then I arrived at
Mission Possible
. It took a few minutes of walking around, but I did find some greats items. For $39.11 (with my 20% off coupon from the Yellow Pages) I bought the following...
1
Jones New York
Dress
1
Eileen Fisher
Top
1 Scarf
2 Jackets (
Danskin, Chicos
)
3 Pairs of shoes (
Enzo Angiolini, Grasshoppers, Street Feet
)
Picture the blue tee, green jacket and green loafers with a pair of jeans or denim skirt.
That Jones New York dress is gorgeous! I had to buy it when it looked good on me in my "bad" non-dress underwear.
I own a scarf like this in a different color. Scarves are a fashion staple for me.
Posted by

Fashion Thriftology eRoom
at 4:55 PM
No comments:

Sunday, January 10, 2016
Posted by

Fashion Thriftology eRoom
at 4:17 PM
No comments:

I must say that 2015 was a bit bleak at the beginning, but became absolutely fabulous after the month of April with travel, new friends, new home, and a new laptop (which I had to buy Christmas Eve because my old one died).
There's one really bad thing that occurred the entire 2015 year - WEIGHT GAIN and I'm still battling it in 2016! Of course, I had fun eating the holiday cookies and cakes and eating out during my travels. The end result wrecked havoc on my figure and my wallet.
Today - which may change by the end of the week - I refuse to purchase bigger clothes (thrift store or retail) to accommodate the more-pronounced bulge (I have a severe case of Dunlap Syndrome - where my belly dun-lapped over my waistband). I've decided to dress where other areas of my body can be accentuated.
For instance, Fridays are jeans day at my job. I decided to wear jeans with a tee with my alma mater (
FIT - Fashion Institute of Technology
), a navy blazer and boots for a hip Friday look. When I put the ensemble on, I noticed that my chest and belly meshed into a series of lumps. With no time to find an alternate, I decided to make the difference by changing bras. I exchanged my "
Genie Bra
" for a push-up one which accentuated my bust and minimized my abdominal area. Of course, every time I left my desk, I made sure I stood straight and held in my stomach.
The FIT Tigers are the same colors as Auburn - had to correct a lot of people at work,
So always remember, Clothes may make the
man
- but the right undergarments make the
woman
look good.
Posted by

Fashion Thriftology eRoom
at 4:00 PM
No comments: