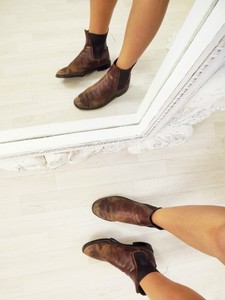 Ode to a pair of boots
By AVM
The bottom of these boots, they tell you where I've been.
They long for places where I have no roots.
The inside is filled with things I'll never say again.
These boots can feel heavier with all the things I never do.
It's just easier to wear heavy boots when my sky isn't so clear blue.
Should they be thrown out?
No!
Is my closet ashamed of what it holds?
No, because survivors reside there.
Like I, they too have a past and are daring and bold.
So I rejoice in God's mercy and true self-acceptance.
It's that which allows me to enjoy the scenery when I'm on a detour.
And when the mood is right - dance.
So I keep walking in these boots...